Lightroom 3 – Classroom in a Book
This review comes from Lightroom Tampa Bay member Velva Lee Heraty. Velva took advantage of our groups access to books from Peachpit, a members only benefit and was kind enough to share her thoughts. If you are a member in the Tampa Bay area, check out the members only section for a list of the books that are available.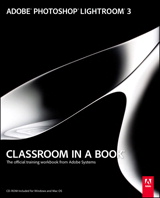 "Adobe Photoshop Lightroom 3: Classroom in a Book is not a book you curl up with on the couch. It's an official training workbook from Adobe Systems and requires you spend an afternoon or two in front of your computer to get your money's worth

The workbook contains 324 pages of instruction that includes a download of nine lesson files from the enclosed CD-ROM. The big advantage in downloading the lessons is the ability to go at your own pace. This reviewer is now on lesson six and enjoys the fact that past files are readily available and easily accessible if need be.

Classroom in a Book is heavily illustrated for additional input away from the computer and boasts a seven-page index. For the total newbie who enthusiastically buys their first digital camera and jumps into training mode a glossary of terms would have been useful. I highly recommend this user-friendly book".

The information he writes is clear and helpful. I'm comfortable working in Lightroom and learned very useful techniques in this book.
Available from Peachpit for $49.49
By Adobe Creative Team
Published Jul 7, 2010 by Adobe Press. Part of the Classroom in a Book series.
Copyright 2011
Dimensions: 7-3/8 X 9-1/8
Pages: 400
Edition: 1st
Book
ISBN-10: 0-321-70093-7
ISBN-13: 978-0-321-70093-3
---
The Adobe Creative Team
is made up of designers, writers, and editors who have extensive, real-world knowledge of and expertise in using Adobe products. They work closely with the Adobe product development teams and Adobe's Instructional Communications team to come up with creative, challenging, and visually appealing step-by-step projects to help both new and more experienced users get up to speed quickly on Adobe software products.