Vision and Voice – Refining your Vision in Adobe Photoshop Lightroom
This review comes from Lightroom Tampa Bay member Beth McNabb. Beth took advantage of our groups access to books from Peachpit, a members only benefit and was kind enough to share her thoughts. If you are a member in the Tampa Bay area, check out the members only section for a list of the books that are available.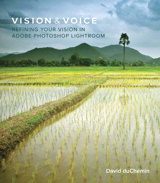 "I started this book in my typical way. Scan the beginning and skip to what interested me. I am used to a Tips and Tricks style. However, this is not that kind of book!

So, I restarted it a couple of times. Then, I got it.


The book is about finding your vision or style and how to craft it in Lightroom.

It has good information and is worth the time to read the beginning and then see how he (David DuChemin) uses Lightroom to refine his images. He starts by zeroing his images in Lightroom and trust me, they don't look very good that way! But, as you tug and pull Lightroom's tools to achieve your vision the end result is worth it!

The information he writes is clear and helpful. I'm comfortable working in Lightroom and learned very useful techniques in this book.

Thanks for letting me use it and review it.
Now it's your turn! Enjoy."
Beth McNabb
Available from Peachpit for $40.49
Published Jul 12, 2010 by New Riders. Part of the Voices That Matter series.
Copyright 2011
Dimensions: 8 X 9-1/8
Pages: 272
Edition: 1st
Book
ISBN-10: 0-321-67009-4
ISBN-13: 978-0-321-67009-0
---
David duChemin
has been creating compelling stories with a camera in hand for over twenty years. An impassioned travel and humanitarian photographer, David has shot on five continents for assignments and projects covering places as diverse as Paris, Haiti, Dominican Republic, Ecuador, Peru, Ethiopia, Democratic Republic of Congo, Malawi, Rwanda, Uganda, India, Nepal, and Mongolia. David's portfolio can be found online at www.pixelatedimage.com.